Enrollment opens April 14, 2023
Pre-enroll now to be notified when enrollment opens!
00

Days

00

Hours

00

Minutes

00

Seconds
Ace your next presentation, secure the job of your dreams, and score that pay raise with the English Pro™ series!
Speaking English can be stressful. Don't do it unprepared.
Do you get these responses from native speakers of English?
"Can you repeat that?"
"What did you say?"
Or the worst one: They give you a fake smile and nod their head, pretending that they understood you?
Non-native speakers of English face these responses every day. These responses can lead to feelings of self-doubt, frustration, and low self-confidence when speaking English. Why can't they understand me at work? I feel like I'm pronouncing the words as clearly as possible...
Speaking English as a non-native speaker can be a challenging journey. It's never guaranteed that the person you're talking to (your potential client, your work colleague, or your child's teacher) will fully understand everything you say. But the probability of success - speaking English clearly, confidently, and expressing yourself without any doubt - can be dramatically improved with the right training from the right coach.
Introducing English Pro™
English Pro™ is a private community for non-native speakers of English who are ready to transform their English skills, willing to do the work, and are eager to reach their full communication potential. Explore what's inside the curriculum of English Pro™!
All English-learning journeys are unique, but they can benefit from things like:
Cutting edge pronunciation techniques

Immersive training

Live feedback and coaching from Julie every week

Access to powerful tools and practice exercises
Finding value from those experiences is only possible when the culture providing those experiences is rooted in a most sacred quality: safety.
A safe space to improve your English
English Pro™ is a safe space where you can practice your English skills and ask questions without judgment. This community values you and your experience above all else, and its core guiding principles are to: 
Respect your privacy

Respect your time

Provide acceptance and compassion
I'm thrilled to establish such a nurturing environment in a community that is void of hate, hype, distractions, and negativity. This is where serious clients transform into confident professionals, and it's where they return time and again to stay sharp, perfect their communication skills, expand their English proficiency, and elevate their potential.
Cookie-cutter training may work for some English pronunciation coaches, but not for me! I enjoy pushing the boundaries, being my authentic and goofy self, and responding to the needs of my clients. This mentality led me to create a unique learning community experience for English Pro™. 
Here are four reasons why you're going to love the English Pro™ series:
1. Private community
Ask questions and upload recordings of your Missions to the Discussions tab of each lesson, and I will give you feedback! The Discussions are only available to members of English Pro™, so you can trust that everyone in this community has similar goals as you: to become a clear and confident speaker of English. We're all in this together!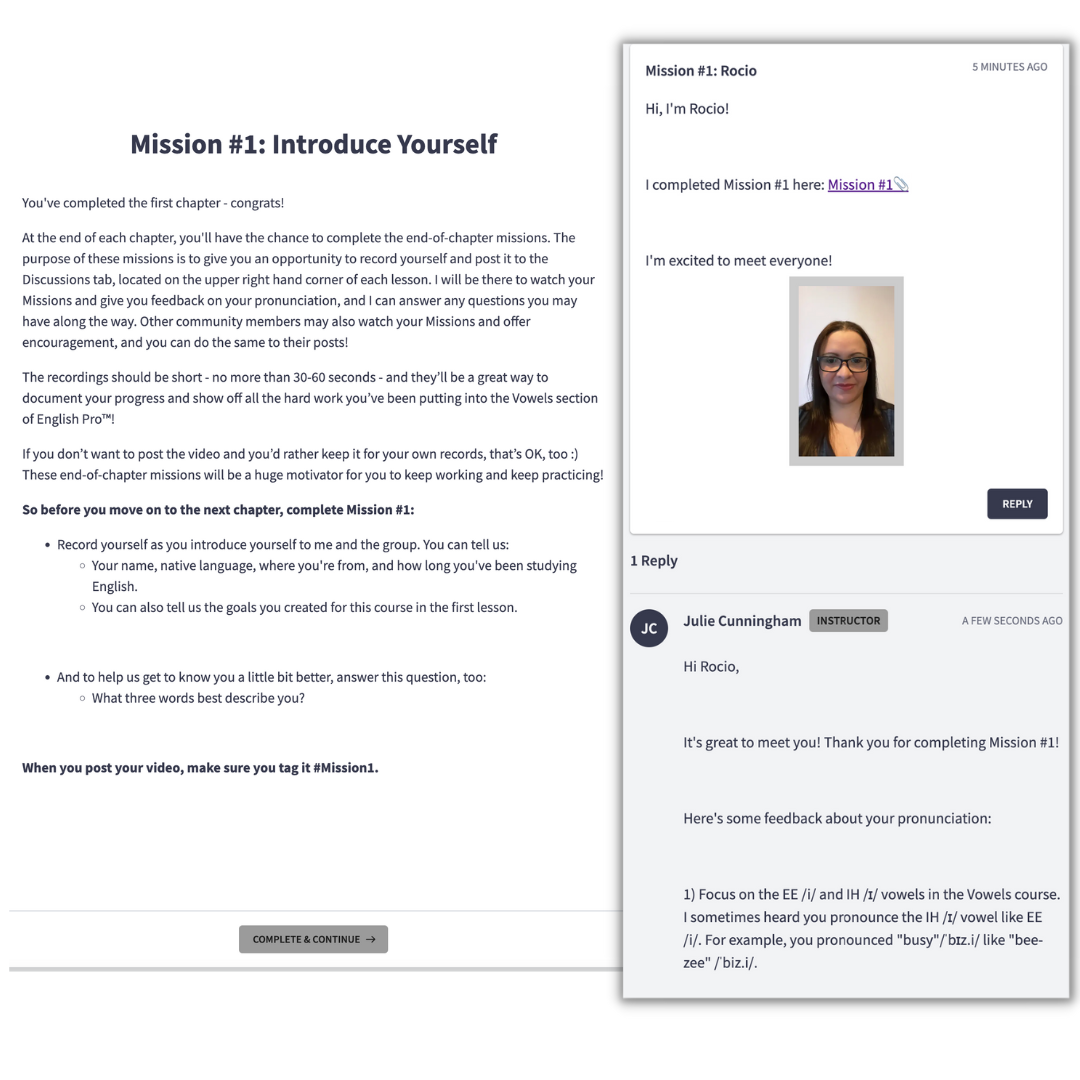 2. Direct access to Julie for training, support, and feedback
Receive live feedback on your English pronunciation every week at English Pro™ Live! All English Pro™ members can attend the live classes and ask questions during the class. Julie will also work 1:1 with selected students every week and give them direct, personalized training on their pronunciation.
3. Exclusive content
English Pro™ members have access to exclusive pronunciation videos and practice exercises only found in the English Pro™ series! 
New videos and exercises are uploaded every month so you can continue to challenge yourself and improve your English skills over time.
4. Boost your earning power as you transform your English
Are you ready to advance your career and step into a leadership role at work, but you're worried about your English skills? Or do you want to do a complete 180 and pivot into a totally different line of work, but you're anxious about the job interview process?
English Pro™ will help you to become a more articulate, confident, and clear speaker of English so you can get that job promotion, earn more money, and have the fulfilling career you've been dreaming of.
Other exclusive content and offers include:
Discounts on private, 1:1 lessons and evaluations (normally priced at $150 - $225)

Additional online SDVA courses (each valued at $19.99)

Weekly meetings with Julie for extra help
Growth-minded. Driven by purpose. Committed to self-awareness. Willing to work hard. Eager to develop your communication skills over time. If that sounds like you, and you've been looking for a private community of like-minded professionals like you, then I'd love to welcome you to become a member of English Pro™.
But first, let's see if English Pro™ is a good match for you:
are emotionally ready and motivated to transform your English skills and become the best speaker you can be.

accept the responsibility to work hard and practice diligently because you know that success is not guaranteed or easily achieved.

value diversity in all its forms and are accepting of others regardless of their appearance, ideas, backgrounds, and English proficiency.

are committed to the process of change. New speaking habits = a totally new sound!
It's not a match if you...
feel like you're too busy or are otherwise unable to follow a consistent practice routine.

expect that success will come easily, quickly, and largely due to putting in the least amount of effort.

are not yet ready to share your ideas, questions, challenges, and needs with others for their constructive feedback.

are in the very early stages of learning English (beginners) and struggle to understand and participate in English conversations due to a lack of vocabulary and comprehension skills.
Feel like it's a match?
Outstanding! Enroll now to access the English Pro™ series and begin your English transformation.
Student Success Stories
Can you imagine the same transformation for yourself?
Meet Juan
He speaks more clearly, confidently, and fluently
"I recently finished a 10-session program with Julie, and I am completely satisfied with the results. 
Since the first class, it was clear that she was an expert on the subject and created a safe space to practice and ask questions. I totally recommend Julie if you are looking for a coach who helps you improve the details of your accent that limit your communication or make you feel less confident. My best piece of advice is to take the leap to reach your English goals!"
Juan V., PhD Student, Spanish
Meet Rocio
She learned to use vowel reductions in her speech to sound more native-like
"I've crammed down the first four and a half chapters of the Master the American English Vowels for Spanish Speakers course.
This course has so many great nuggets of wisdom! I'm sure other Spanish speakers will love it, too. So far, the part that I love the most is the reduced vowels in sentences as I know it makes such a big difference in speech. And having the chance to repeat each sentence as many times as I want in normal and slower pace is just brilliant!"
Rocio P., Software Engineer, Spanish
Meet Ivan
His speech is more clear, strong, and resonant
"I can't recommend it enough! 
San Diego Voice and Accent is one of the most comprehensive resources I have found to help me strengthen and develop a clear, resonant-speaking voice. I really enjoyed Julie's Six Steps to a Stronger Voice course. Completing this course proved to be useful and beneficial for me as it has helped improve my articulation to speak more clearly. This course provided an ample amount of information to better understand how to use my voice and how to keep it healthy. The exercises in the videos are easy to follow, and are guided by the ever pleasant and delightful Julie. What a great resource, I can't recommend it enough!"
Ivan S., Graphic Designer, Spanish
Meet Sunit
He's a more engaging and charismatic storyteller
"Working with Julie was awesome!
She helped customize the syllabus as per the feedback from my initial performance review, which helped me focus on my weak areas such as understanding intonation, consonants, and American English pronunciation. The course gave me a jump start to becoming a better storyteller."
Sunit V., Electrical Engineer, Hindi
Meet your course instructor
Hello! My name is Julie Cunningham, and I've trained thousands of people on their American English pronunciation and voice projection skills. Here's how I can help you.
I've been helping people with their American English pronunciation skills since 2007, when I moved to the Czech Republic to teach English. This experience sparked a desire to return to school and earn a graduate degree in speech and language pathology, then pursue specialized certifications in American English pronunciation and American accent training.
Then I founded my company San Diego Voice and Accent, where I work one-on-one with professionals who want to perfect their American English pronunciation skills, project a clear and confident voice, and maximize their speaking potential.
Over the years of working as an American accent coach and professional voice trainer, I've learned a lot about what works and what doesn't work when training your pronunciation skills and voice projection. It's not enough for you to simply "repeat" what you hear; that isn't going to get you the results. You need to practice with the right technique and with the most effective methods, and you need someone there to guide you along the way.
That's why I created the English Pro™ series: to help professionals from all areas of the world and at all levels of English to speak with clarity and confidence, and to reach their goals of becoming a powerful and effective communicator.
English Pro™ gives you everything you need to train your American English communication skills successfully, including industry-leading practice techniques, pronunciation help and feedback, and live coaching to help you maximize your English skills.
Thank you for allowing me to be a part of your English transformation journey. I'm excited to work with you!
Julie Cunningham
Founder of San Diego Voice and Accent
What is English Pro™?

English Pro™ is a private, online community that will help you become a clear and confident speaker of English. Here you will receive comprehensive training in all areas of English pronunciation and conversation skills within a safe, supportive, and enriching environment. Training is provided through multiple courses that target each area of English, and each course includes detailed practice videos and hundreds of practice exercises designed to transform your speaking skills. You'll also receive direct, live feedback from me during live classes and weekly office hours if you need extra help along the way. New lessons and practice material are added to English Pro™ every month, so you can continue to polish and refine your English skills with fresh content.

What's included in my English Pro™ subscription?

For one, low monthly payment, you will have access to: 1) The English Pro™ series, which includes hundreds of training videos and thousands of practice exercises designed to transform your English pronunciation skills at every level (new videos are added every month); 2) Live, weekly classes at English Pro Live, where you can work 1:1 with me and receive personalized accent training and feedback; 3) Recordings of every past class of English Pro Live, so you can rewatch lessons and continue to polish your English skills; 4) Additional online courses that will enhance your professional voice skills, such as Six Steps to a Stronger Voice (a value of $19.99); 5) Weekly office hours with me if you need extra help along the way; and 6) Special discounts on private classes and evaluations only offered to members of English Pro™ .

My payment was declined, but I entered the correct credit card information. How can I enroll in English Pro™?

This is a known issue for students in India or students who are using credit cards that are attached to banks in India (and potentially other countries). You will need to contact your bank to authorize this transaction, then return to this course website to enroll in English Pro™.

Can I download the practice materials?

Absolutely! All audio files are downloadable, so you can practice your English pronunciation anywhere and at any time! Many exercises also come in a PDF format in addition to the audio format, so you can download and print out specific exercises you'd like to practice when you're away from your computer or device.

How long will I have access to English Pro™?

You will have access to English Pro™ and the entire course catalogue of San Diego Voice and Accent (that's right - EVERY course that I offer!) as long as your subscription remains active.

How long will it take me to complete English Pro™?

This is entirely up to you and your practice schedule. I'll provide you with guidance on how long each chapter may take to complete, but it's up to you to do the work and practice your English skills until you feel like you fully understand the sound and the feel of English. This will be different for every student. Don't forget that the English Pro™ series is continuously updated - new practice videos and exercises are added every month - so you'll have the opportunity to continue perfecting your English skills as time goes on.

What if I am unhappy with English Pro™?

Oh no! I don't want that! I offer a 10-day money back guarantee, no questions asked. If you are unhappy with the course for any reason, let me know within the first 10 days and I will refund your payment right away. You can contact me via email at: julie@sandiegovoiceandaccent.com.

I want to learn more about my specific speech and pronunciation patterns. Can I complete a speech evaluation?

Yes! If you want to know your baseline pronunciation skills, I offer a comprehensive Speech and Accent Evaluation. And best of all, members of English Pro™ can get the evaluation at a discounted price! You can add this to your cart at the time of purchase, or contact me if you have questions: julie@sandiegovoiceandaccent.com.

Can I pay with PayPal?

Yes! On the checkout page, select the PayPal button under the section "Select a payment method".